Frequently Asked Questions
How to use ChannelMAX and PatchMAX for cultured cells?
Although ChannelMAX and PatchMAX are originally designed for oocyte patch clamp, they can be used for cultured cells patch clamp. The sensitive feedback system ensures that patch pipettes stop advancing as soon as they touch cell membrane. No microscope is needed.
For whole cell patch, cells suspension should be loaded in a small well in the perfusion chamber. Patch pipettes advance towards cells until touching one of them. An immediate suction will seal electrodes with cell membrane.
For excised patches, it is the best to use confluent cells on cover slip. Since the feedback system is very sensitive, patch pipettes will not bump into the glass even there is only a thin layer of cells. After making seal, pipettes are withdrawn from cell membrane in user-defined speed to excise patches.
Since this is blind patch, it is important that only cells of interests are loaded into the chamber. If most of the cells do not express the ion channel of interest, or if there are a lot of cell debris in the chamber, then there is a high chance the patch pipettes make seal on undesired material.
Note that the application of this technology is not limited to cultured cells. You could patch on mitochondria, brain slice and other materials. Patch pipette movement will stop once they sense resistance increase.

Why is a microscope not needed when I use ChannelMAX for two-electrode voltage clamp and patch clamp experiments?

The perfusion chamber is specially designed for the system. When an oocyte is dropped into the perfusion chamber, it automatically moves to a position the electrodes can reach. Thus a microscope is not necessary for doing experiments.

Will the noise be high when running two patch clamp experiments simultaneously?
The main concern is capacitive coupling between the electrodes when you have electrodes near each other. Since the angle of approach is fairly wide (90 degrees), and the distance between the tips of the electrodes is close to the size to the oocyte and even higher with excised patches, the coupling will not be very high. However, if capacitive coupling causes concern, you may either place a grounded shield between the electrodes, or use a different configuration of the instrument: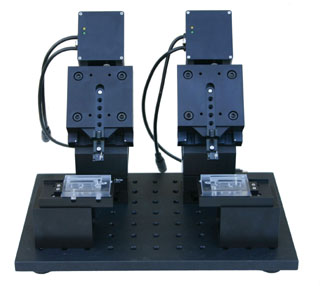 It is frenetic when I run only one patch clamp experiment. Will I be able to run multiple patch clamp experiments simultaneously?
Patch clamp experiments are usually labor intensive since the researcher must look under a microscope and manually control the manipulators to make fine movements so that the patch pipette can make perfect contact on the cell membrane. It is almost impossible to move multiple electrodes to make a seal or to excise multiple patches. PatchMAX and ChannelMAX are controlled by a computer. Multiple patch pipettes move simultaneously to touch the cell membrane in a controllable and reproducible manner. Excising patches also happen simultaneously. These benefits take away the stress from the researcher so that running multiple patch clamp experiments simultaneously becomes possible.
What are the advantages of using computer-controlled patch clamp system?
Increase the seal success rate

-- When the researcher manually controls a manipulator to make a seal, the speed and force that the patch pipette touches the cell membrane always varies. In addition, when the hand touches the manipulator, it can cause the manipulator to move or drift, leading to a decreased seal success rate. A computer controlled system eliminates the human errors. It is accurate, reproducible, and vibration- and drift-free. It works regardless of whether the researcher is in a good or bad mood, skillful with his hands, or not. Our systems will increase the seal success rate.

Less labor-intensive

-- Patch clamping is known to be labor intensive due to the fact that researcher has to carefully control the manipulator to make fine movements without causing any vibration. The stress will be gone when using our computer-controlled system.

Transferable technique

-- The parameters used to make the touch can be saved in a protocol to share with others. Regardless of whether the researcher is skillful or not, he/she can use the same protocol to achieve a high seal success rate. A new person joining the lab will be able to pick up the technique much quicker than in with a manual setup.

No loss of "skill"

-- No matter how infrequently you do patch clamp experiments, you can always reach the same seal success rate when you use your saved protocol.

Economical

-- An electrophysiology rig built around our products is cheaper than a traditional patch clamping setup.
What are the advantages of running multiple patch clamp experiments simultaneously?
Increase productivity

-- In the time it takes others on conventional rigs to do one experiment, you can do two or more. You will be able to publish more often.

Make better decisions during experiments

-- During single channel recording, it is difficult to understand what is going on since single channel activities are random events. For instance, it is difficult to distinguish one channel with two open stages and two channels in one patch. When you have multiple experiments running simultaneously, you will have more information helping you to understand the channel behavior and making the correct decisions.

Decrease equipment cost

-- The cost of the ChannelMAX 100A Mini is much less than buying two patch clamp setups and one two-electrode voltage clamp setup. The ChannelMAX 100A Twin saves even more on equipment cost.