Featured Product
PatchMAX 100A
Automated Patch Clamp System
The PatchMAX 100A is an automated patch clamping system.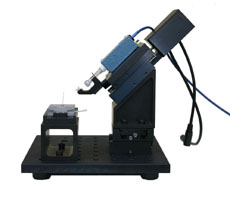 Armed with precisely controlled motors, data acquisition board with BNC interface control box, software, and a specially designed perfusion chamber, the PatchMAX 100A Automated Patch Clamp Systemdrives the electrodes to touch the cell membrane without the need for a microscope. When used with the ez-gSEAL Pressure Controller, it makes seals automatically. The system significantly lowers equipment cost and saves lab space. This system relieves researchers from the most labor-intensive part of these experiments and significantly increases productivity.

Latest News

New! ezPatch 200A Manipulator
The ezPatch 200A manipulator is a micromanipulator driven by stepper motors. Its resolution is 47 nm and maximum speed is 2.6 mm/s. Controlled by iPod Touch, the software can be switch back and forth from manipulator control to the ez-gSEAL pressure control for easy seal making.
More Info
iNBSController

The iNBSController software is an application that turns the iPod Touch, iPhone, and iPad into remote controls for the ez-gSEAL Pressure Controller. Patch clamp experiments have never been easier!
Patch Clamp Conditions

Read the application notes to find what conditions improve the success rate of making gigaohm seals and breaking-in in patch clamping experiments.

Introducing
ez-gSEAL 100B Pressure Controller with iPod Touch as Its Remote Control
The ez-gSEAL 100B pressure controller is designed mainly for automated patch clamping, but can also be used for many other applications. It is based on our 100A pressure controller but includes many improvements. With the ez-gSEAL pressure controller, patch clamping becomes as easy as a click of a button. You may use it with our
ezPATCH 100A
smart manipulator,
PatchMAX 100A
automated patch clamp system,
ChannelMAX 100A Mini
automated dual clamp system, or
ChannelMAX 100A Twin
automated quad clamp system for fully automated patch clamp experiments, or use it as a stand-alone product on a traditional rig. You may also use the controller for puffing drugs or studying stretch channels. The software-controlled pressure controller comes with pumps, so air tanks are not required. The new iNBSController makes it possible to control the pressure with an iPod Touch.

Buy Axon Instruments' products from us!
We now carry Axon Instruments' Cellular Neuroscience products. For details, contact
sales@neobiosystems.com
.